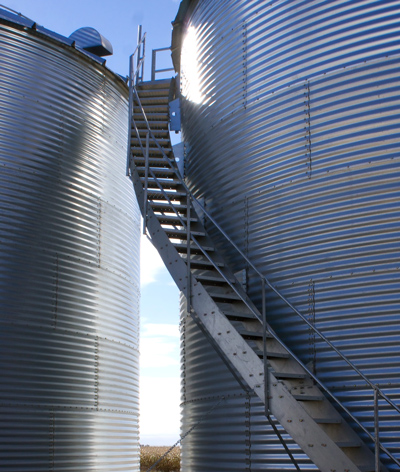 Conrad-American/Eaton offers heavy galvanized spiral stairs for both wide and narrow corrugation bins from 15' to 105' diameters.
Our ease of installation combined with a 20" wide perforated step make use easier and adds to slip resistance. A comfortable 8 ¼" vertical distance between each step makes our stairs the leader in the industry.
Our spiral stairs can be installed to spiral to the left or the right around the bin.  The design of the spiral stair is based on the diameter of the bin.
We Serve Farmers
"Our family has purchased multiple Conrad-American grain bins in the past five years. The team at Conrad-American is great to work with. They are very accommodating, quick to answer questions and will go out of their way for product support. I have been very satisfied with the quality of the grain that leaves the bins!
Brad, Danville, Iowa Farmer