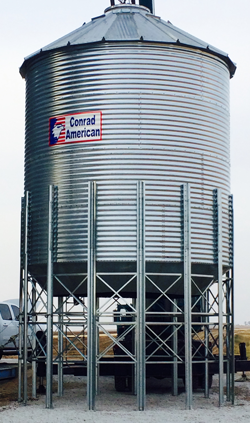 We manufacture heavy wet holding tanks in both 15' and 18' diameters.  We offer wide corrugation for stronger vertical strength with bushel capacities ranging from 2,700 to 5,700 bushel.  Our roof is 35 degree and our hopper is 45 degrees. 
We offer many optional accessories for our wet holding tanks.
We Serve Farmers
"Our family has purchased multiple Conrad-American grain bins in the past five years. The team at Conrad-American is great to work with. They are very accommodating, quick to answer questions and will go out of their way for product support. I have been very satisfied with the quality of the grain that leaves the bins!
Brad, Danville, Iowa Farmer